One of Bangkok Best Restaurants
Le Du restaurant on Silom is one of our favourite restaurants in Bangkok, if not our favourite. We were lucky to discover it from the very early days and enjoyed the evolution from a young and shy hidden restaurant to a world-class Michelin starred venue.
Chef Ton who is a certified sommelier and an accomplished Chef involved his passion for Thai modern cuisine using local fresh ingredients most restaurants would simply overlook.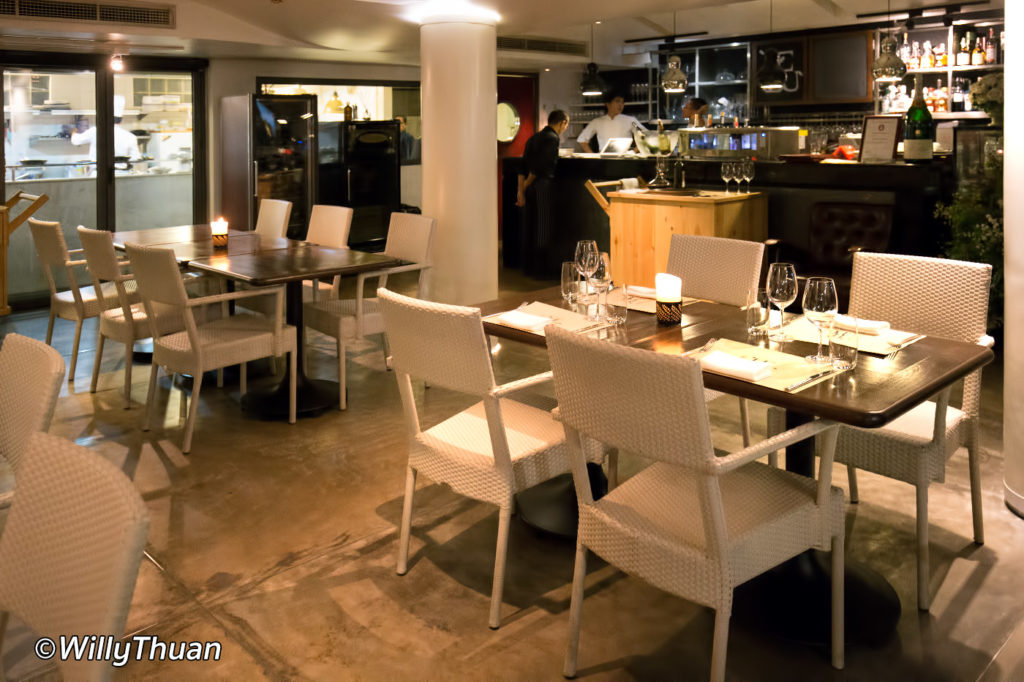 Dining at Le Du is a new culinary journey each time as the menu often changes. That menu is not very long but covers everyone's taste: meat, fish, plenty of vegetables and a lot of fun appetizers. The best way to enjoy the experience is to try the tasting menu, offering several smaller portions of the dishes the chef is most proud of.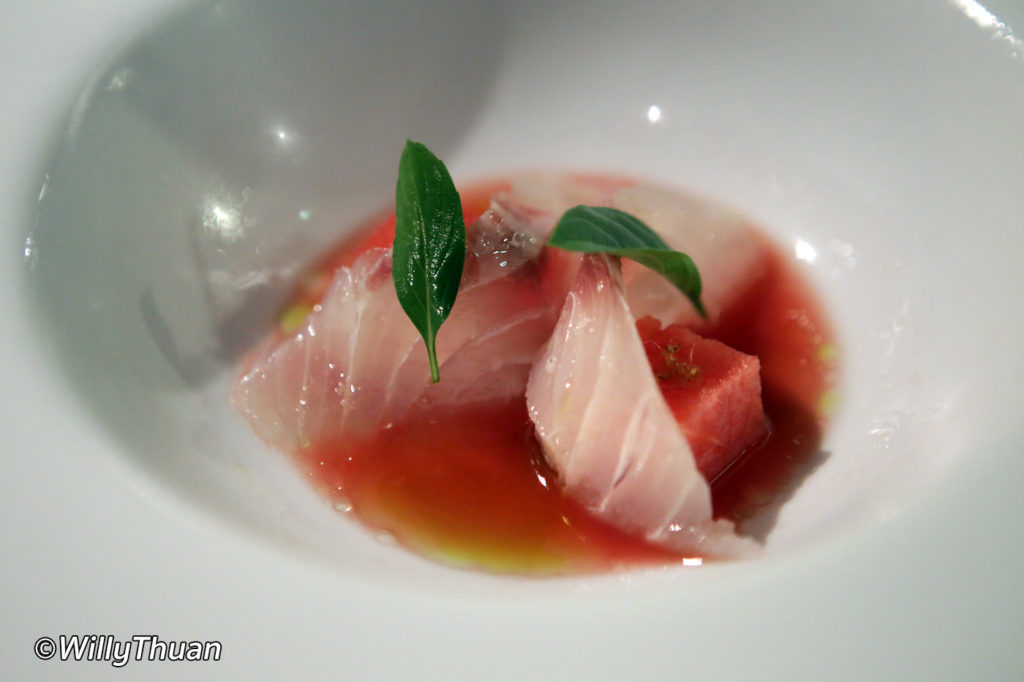 One thing learned from the early days at Le Du, is to forget everything you know about your previous dining experiences. Let me explain… we all have a 'taste memory' which kicks in when you read a menu (there are no images). You read snapper, oyster or beetroot, your brain goes back in time trying to imagine how it tasted like last time had some, and if you liked it or not. Well here, forget everything your brain is telling you because Le Du manages to create brand new tastes by mixing the right amount of ingredients.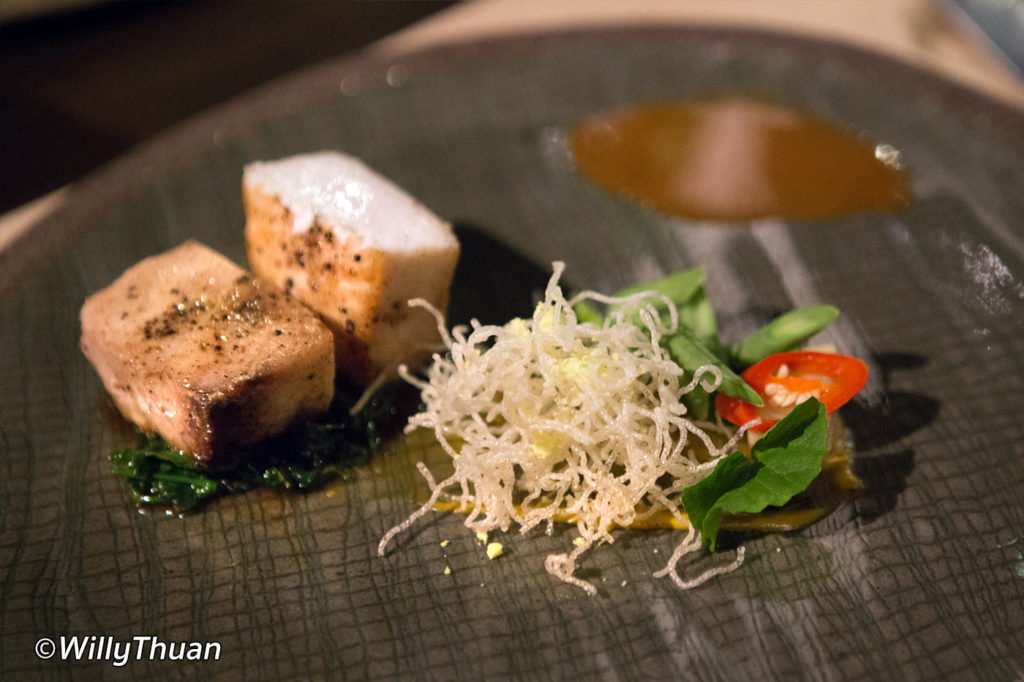 As always we also love to order lots of appetizers more than main dishes. We always find that appetizers are more creative and more fun than heavier main courses. The dishes are superbly presented and well introduced by the team, who speaks perfect English. The trick is to mixed all the ingredients together, don't try to pick this or that from your plate, that would defeat the purpose. The balance between sour, salt, sweet and umami combines with textures and temperature. It really is fun and never ceases to surprise.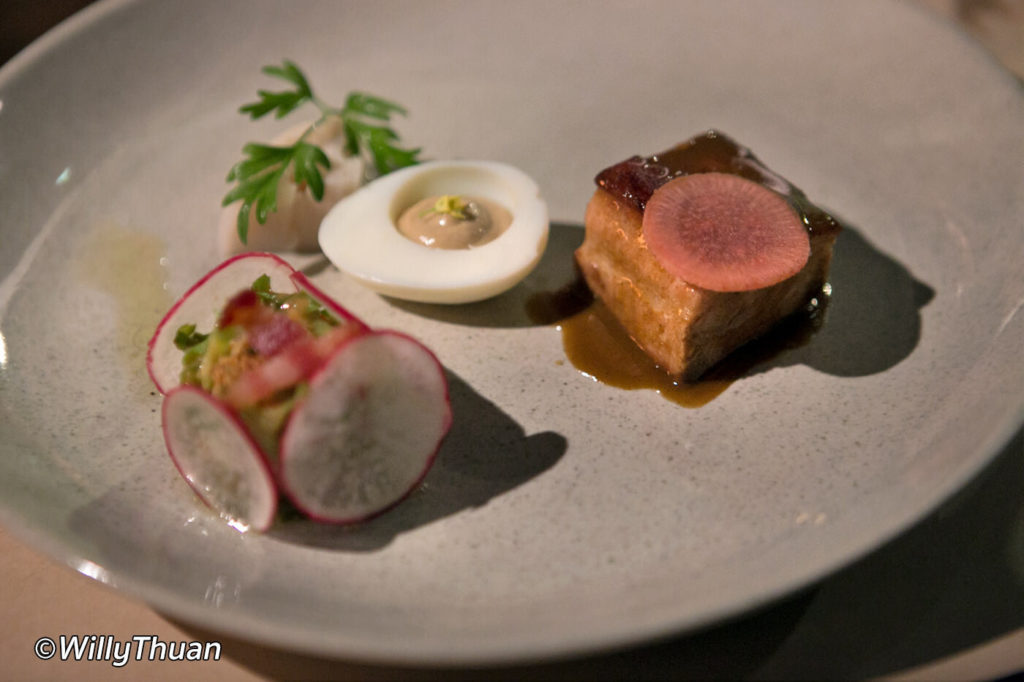 Le Du restaurant is casual, not pretentious and very friendly. To make sure the evening goes great, the wine list is extensive but not expensive, the chef made sure of that.
If you love great food, Le Du should be on your list of must-try. It's not full every day because it is a little hidden, but since Chef Ton is now a world-famous chef (but cool and modest) you should definitely call and book in advance.
---
More photos
---
Le Du Restaurant Info
Location: Silom
Address: 399/3 Silom Soi 7
Open: 6 pm – 10.30 pm (Closed on Sundays)
Tel: +66 (0)92 919 9969
Price: A little high
BTS: Chong Nonsi exit 4
---
Le Du Restaurant Map