How to get to Mahanakhon SkyWalk?
Mahanakhon SkyWalk in Silom is without a doubt the most thrilling experience you can get in Bangkok these days. It's quite expensive, but the views from this 360˙open space at the top of the tallest tower in Thailand somehow justify the price. Built on the 78th floor of the iconic Mahanakhon pixelated building, this long-awaited rooftop bar offers an impressive viewpoint on the entire Bangkok metropolis.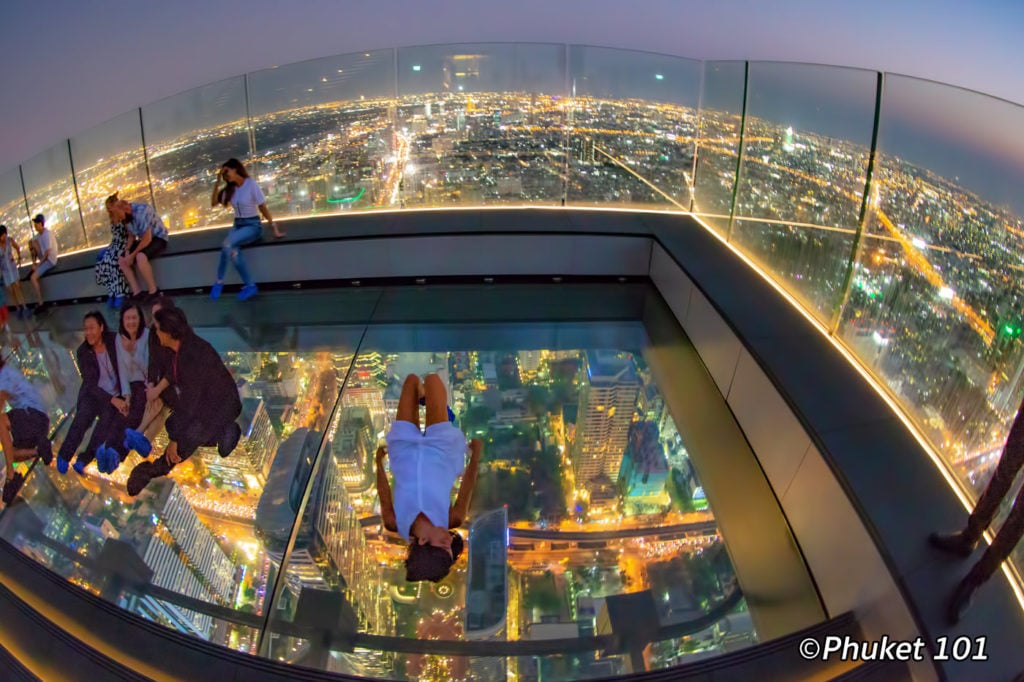 The SkyWalk consists of 3 distinct floors: two indoors and one outdoor. You probably will arrive from the BTS Station Chong Nonsi and from there follow the signs to the ticket counters located just at the entrance of the building. The staff gave us a short briefing on the layout and what to expect and took us the lifts. There was a bit of a queue, but we didn't have to wait long. Soon we were inside a lift cover with floor to bottom screens displaying a flying view of Bangkok from above. It was a little disorienting but entertaining enough to give the impression that rushing through 74 floors only lasted ten seconds. After checking, it actually only takes 50 seconds!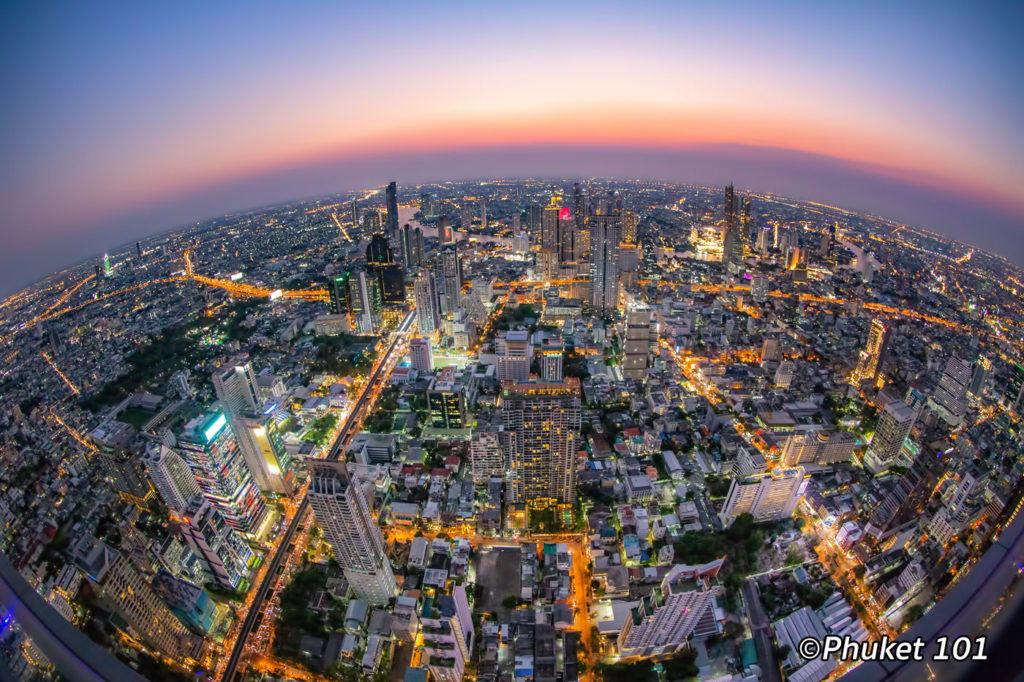 Once up there, the elevator's doors open on a vast 360 indoor area from which you can admire the whole Bangkok from an incredible height. The place is peaceful and quiet because visitors all rush to the rooftop itself. We took some photos, and soon we too wanted to see the real thing too. You can use the stairs to climb the three levels or do what everyone does: use another glass lift to reach the 78th floor, at no less than 314 meters!
With the sky above your head and a gentle breeze flowing through, the top floor is definitely more attractive. As you exit the lift, you will be given some inelegant shoe wrappers to wear if you want to walk on that scary glass floor.
As people approach this much talked about adrenaline rushing space, they become nervous, talkative and giggle a lot, asking themselves if they really want to 'do this'. Many just chicken out and pretend someone has to stay on the side to take some photos because selfies are not allowed once on the glass. We were no different: we talked louder, giggled a lot, hesitated, and one of us walked on the glass while the other stayed on the side to take the photos proving our bravery. I won't tell you who did what.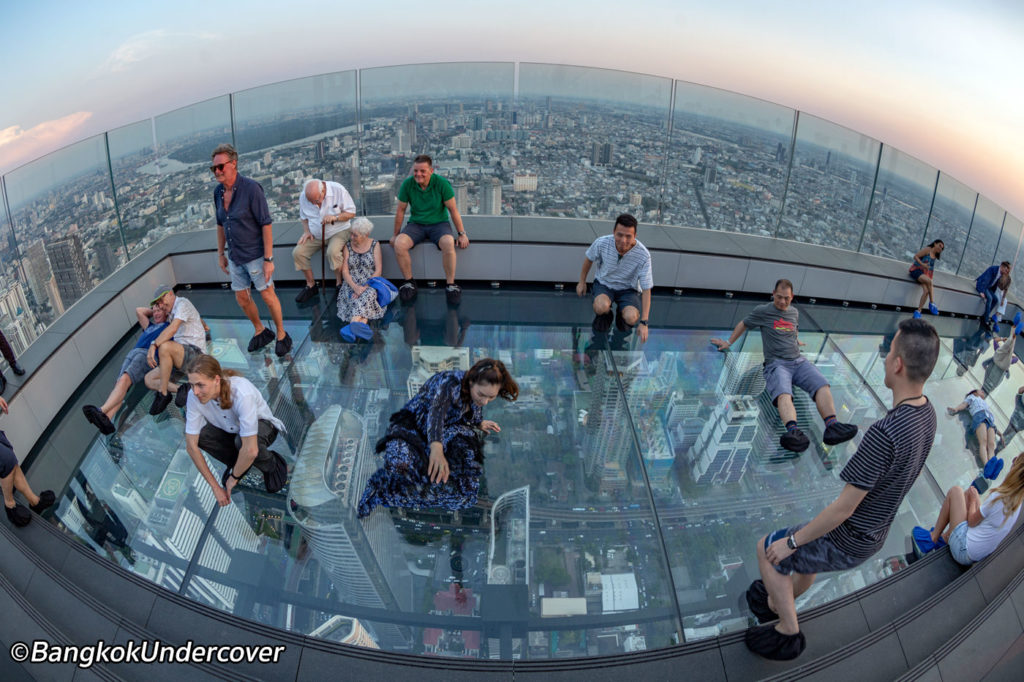 Anyway, yes, it can be utterly scary, depending on how scared of heights you are. 75 floors mean that below your feet are the roofs of towers that used to be considered very high. They now look like dwarf buildings. Around you, visitors act and react in all kinds of ways. Some are acting calm and quiet, pretending not to be impressed but never really looking down (that's us). Some lie face down and pretend to fly, some shakily try to cross to the other side but freeze halfway. Just watching people is entertainment on itself.
---
The rooftop bar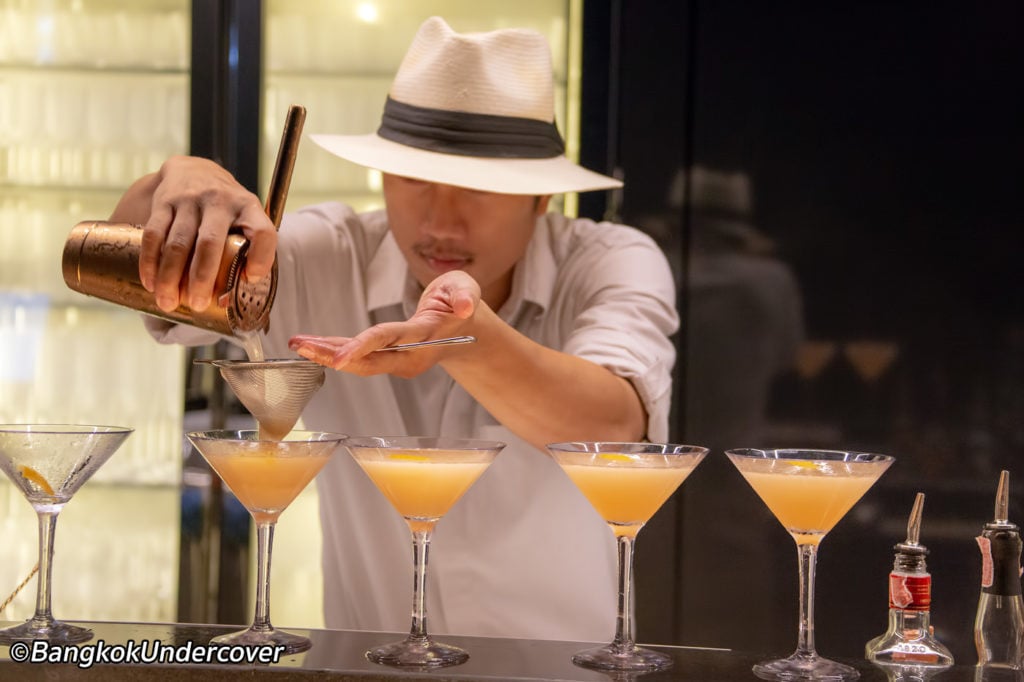 Once done with your act of bravery, you can reward yourself with a much-needed cocktail or a beer at the small terrace bar. There are only a few tables, so it's not easy to get one. You can also climb a few more steps above the bar to get a full 360. Overall it's pretty cool, but as the sunset time approaches, the crowd grows and become restless and excited. Everyone wants a spot near the edge, and it can become challenging to get the right angle.
The SkyWalk is mostly a photo playground and a selfie paradise. People are only here to take photos and selfies: we took ours, had a nice drink while enjoying a good DJ music selection, shot our last blue hour pictures and aimed at the exit.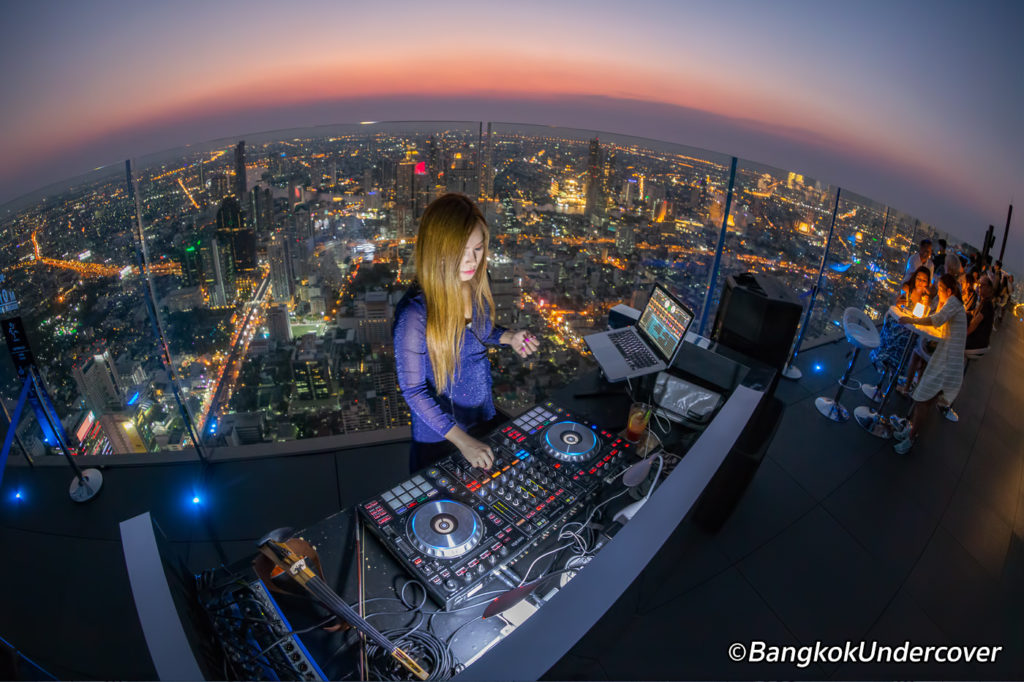 As the building is also a King Power duty-free, they kind of trick you by dropping you on a higher floor, forcing you to walk through several levels of discounted duty-free goods! That's really tricky, but discounts a real and if you are eligible for duty-free, you may want to have a look. My favourite single malt whisky was on sale at 2,800 baht when the best price I could find it in a supermarket was 4,600 baht. But guess what: I live here and therefore was not able to enjoy the discount as you need to pick up your purchase at the airport!
---
Verdict
Overall, Mahanakhon SkyWalk is worth the price once. The views of Bangkok colossal city are jaw-dropping and walking on the glass floor is an unforgettable experience. Just make sure you come on a clear day and not too late to avoid the crowd unless you really want that sunset photo.
Mahanakhon rooftop is nowhere as trendy or romantic as other famous rooftops of Bangkok you can actually see from SkyWalk: Vertigo at Banyan Tree, Sky Bar at Lebua or 360 at Millennium Hilton.
---
More Photos

---
Mahanakhon Skywalk Info
Location: Silom
Address: 114 Naradhiwat Rajanagarindra Rd, Khwaeng Silom, Khet Bang Rak, Krung Thep Maha Nakhon 10500
Open: 10 am – 12 am (last admission at 11 pm)
Phone: 02 677 8721
Price: 765 baht
Floor: 78th floor
BTS: Chong Nonsi
---
Mahanakhon Skywalk Map
---
More Rooftops in Bangkok
Read more about Mahanakhon Skywalk