---
A rooftop bar near Nana Plaza
---
RedSquare rooftop bar is a small but attractive new terrace with a view on the 25th floor of the Novotel Bangkok Sukhumvit 4. The location is convenient, with impressive views of the Bangkok skyline, but most of all, it is affordable and easy to access. As you enter a beautiful hotel lobby, you can instantly tell the hotel is new with a contemporary design. The staff is amicable as they indicate the way to the lift, and you feel welcome even if you are not a hotel guest.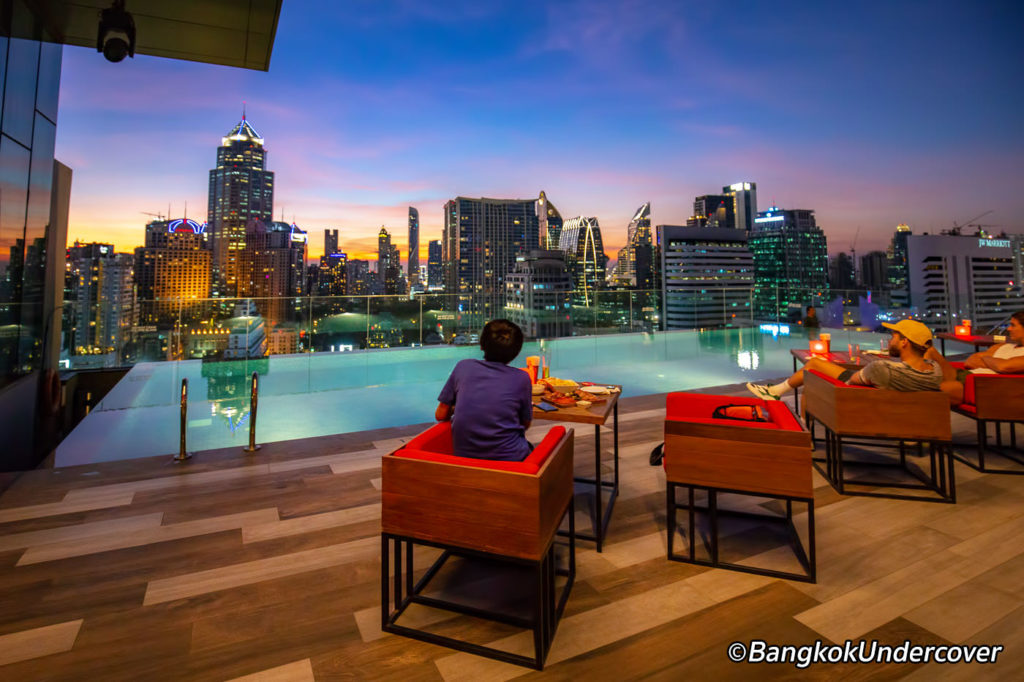 As the lift opens, the design is instantly attractive, with many wide spaces around for you to enjoy the city panorama from every side of the building. As the name indicates, the bar is painted bright red, creating a warm and lively atmosphere.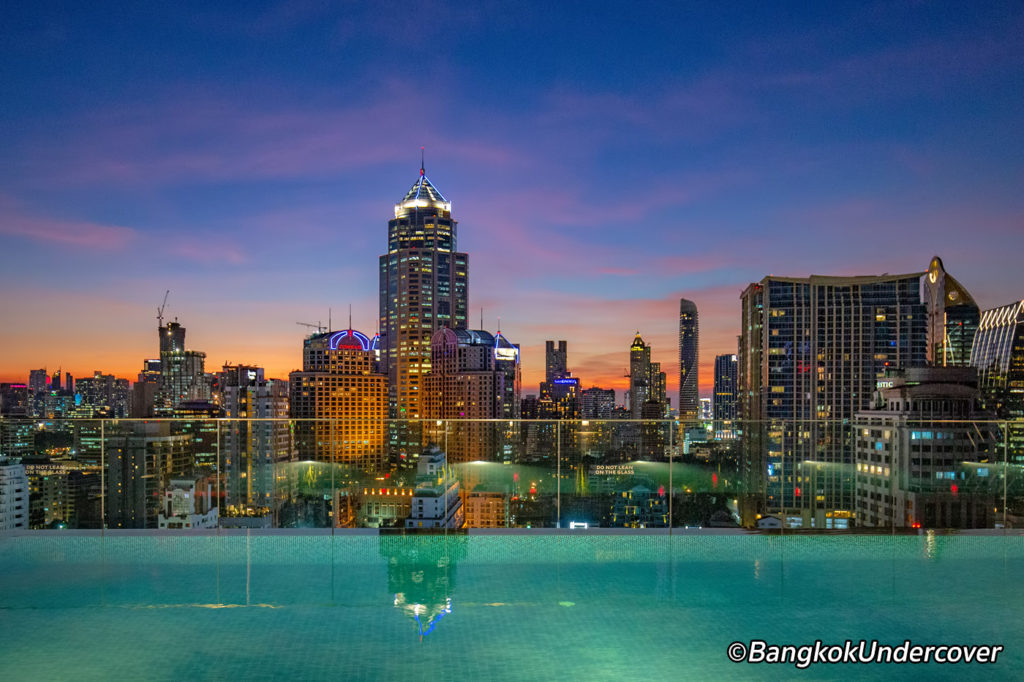 We walked impatiently to the outdoor space to finally see what kind of view this rooftop had to offer, and it was a pleasant surprise. Every hotel wants a rooftop bar, but too often, small hotels on small streets end up with poor views, facing other buildings or offering uninteresting cityscapes. But RedSquare did not disappoint: the city skyline stands far enough from the rooftop to create a good panorama and reflects on the infinity pool. Best of all, the sun sets just in front of you, and as often in Thailand, you get some colourful skies. Add a few beers and some cold cuts to that, and you have the perfect end of the day!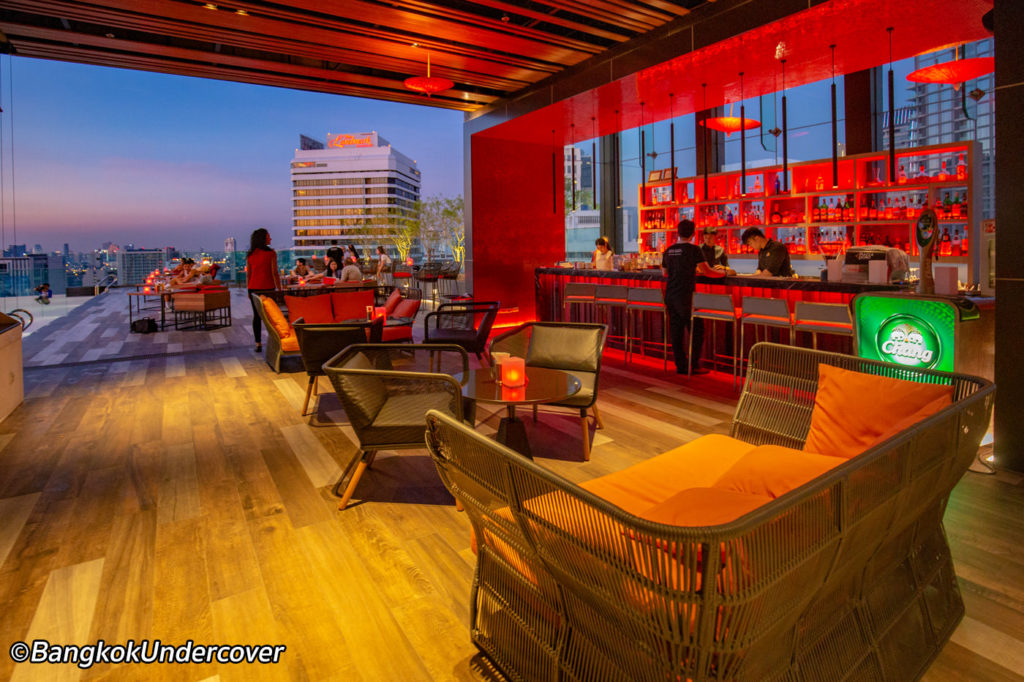 ---
What to Order?
RedSquare is what they call a Vodka concept rooftop bar, but that seemed a little bit too strong for us, so we stayed with some local beers (120 baht for a Singh for a Chang), soft drinks are at 70 baht, and cocktails starting at 300 baht. The vodkas journey menu offers an incredible collection of vodkas worldwide, ranging from 150 to 400 baht (Sash & Fritz, Germany). They even have African Vodka at 250 Baht. For the food, we had a cold-cut selection that was surprisingly well served at 460 baht and some French fries to go with it. If you are starving, try the Smoked bacon cheeseburger at 360 baht or even an Australian beef tenderloin at 590 baht!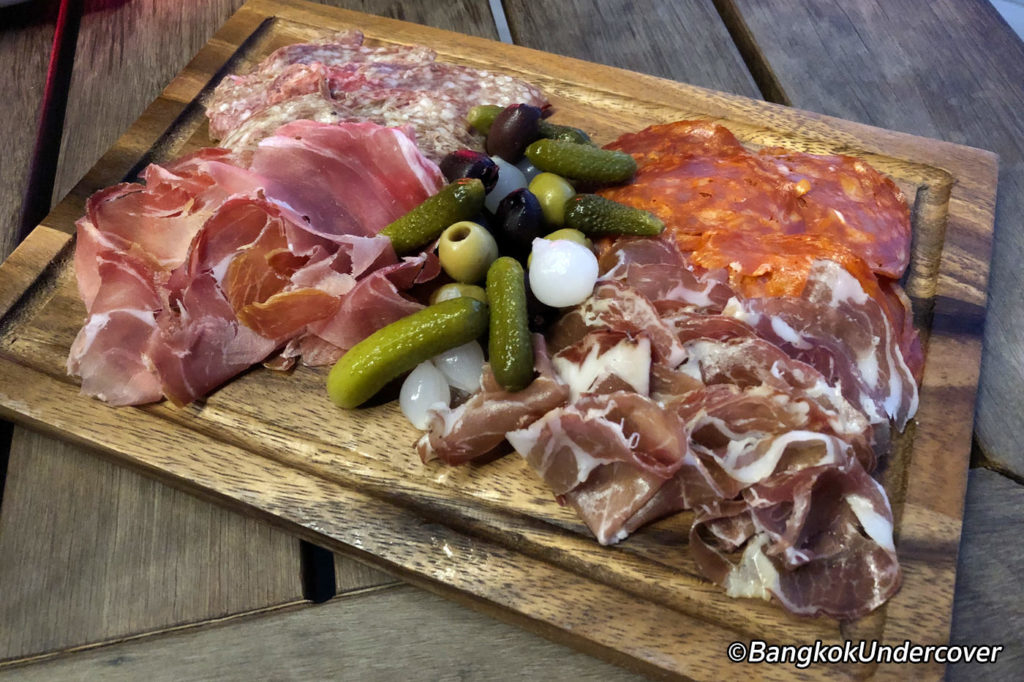 RedSquare at Novotel Sukhumvit 4 feels casual and comfortable with an easy-going mood. The staff is extremely friendly and polite, and the prices are very reasonable, making RedSquare an excellent place to meet friends without worrying about the bill.
---
360 Panorama of RedSquare
---
More Photos
---
RedSquare Info
Location: Sukhumvit
Address: Novotel Bangkok Sukhumvit 4, 25th floor, 27 Sukhumvit 4 Alley, Khlong Toei, Bangkok 10110
Open: 6 pm – 1 am
Phone: 02 667 5808
Price: reasonable
Dress Code: none
---
RedSquare Rooftop Bar Map
Read more about RedSquare Rooftop Bar at TiniTinai.com