The Golden Mount
Wat Saket Bangkok, or more officially Ratcha Wora Maha Wihan is a Buddhist temple in Rattanakosin, not very far from the famous Khao San Road. And the famous 'Golden Mount' easily visible from the distance is called Phu Khao Thong, but when asking directions, everyone simply calls it 'Wat Saket'.
The golden mount we see today is built on the remains of a previous unsuccessful attempt to create a massive chedi on the soft grounds of the temple. The remains of this collapsed chedi formed the artificial hill on which the Golden Mount is standing today. The construction started under the reign of Rama IV (1804-1868) and was only completed during the reign of Rama V (1853-1910) at the end of the 19th century. A relic of the Buddha brought from India was placed inside the chedi, and a concrete wall was added later to consolidate the hill.
To reach the 58 metres gleaming dome, you will enter the temple ground by one the door, probably the largest one on Boriphat road and walk around the hill until you reach a nicely paved red staircase coiled around the hill. Three hundred eighteen easy steps will take you to the top into the base of the chedi, where people pay respect to several golden sitting Buddhas.
But of course, almost everyone wants to reach the top and see that glorious golden monument. You won't be able nor allowed to touch it as it is protected by a rail and it wouldn't be appropriate anyway. The view from up there is beautiful without being amazing, no real landmark or river visible, just a sea of roofs, trees and the cityscape in the far. On the way down, don't miss another immense golden Buddha sitting in a large glass room.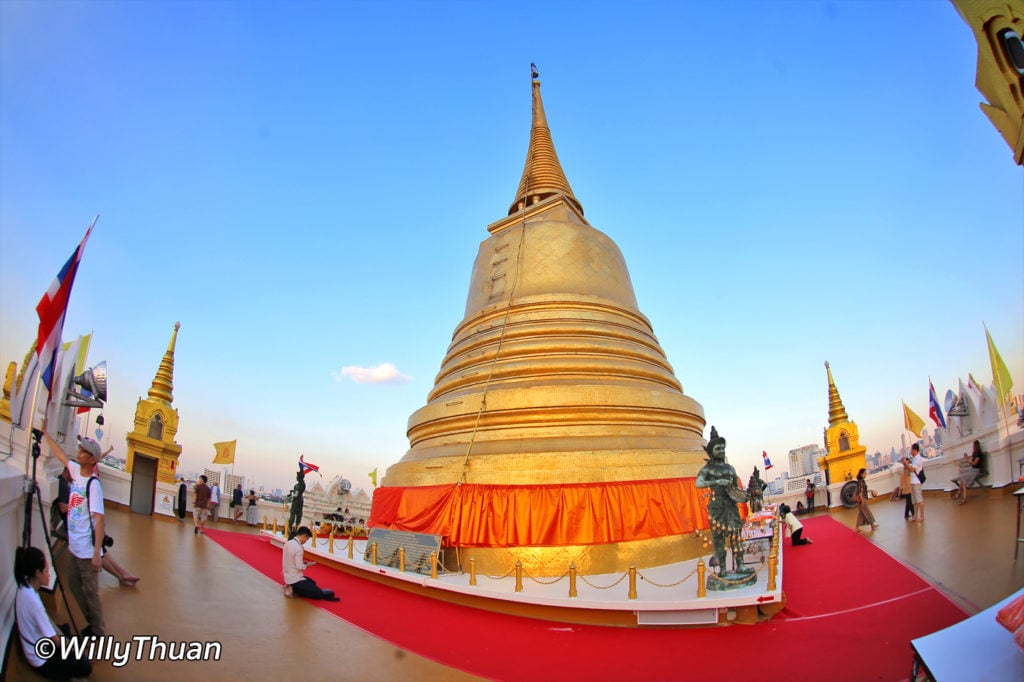 Every year, during the famous Loy Kratong festival in November, Wat Saket hosts a temple fair, including a candlelight procession ceremony up the stairs of the golden mount. Expect serious traffic jams.
If you are interested in unusual off the beaten track exploration, you are not far from the unique Baan Bat, the last Bangkok community hammering out the alms bowls used by Buddhists monks by the monks receiving food offering early morning. The temple is open all day, but the door to the Golden Mount is only open between 7.30 am to 5.30 pm.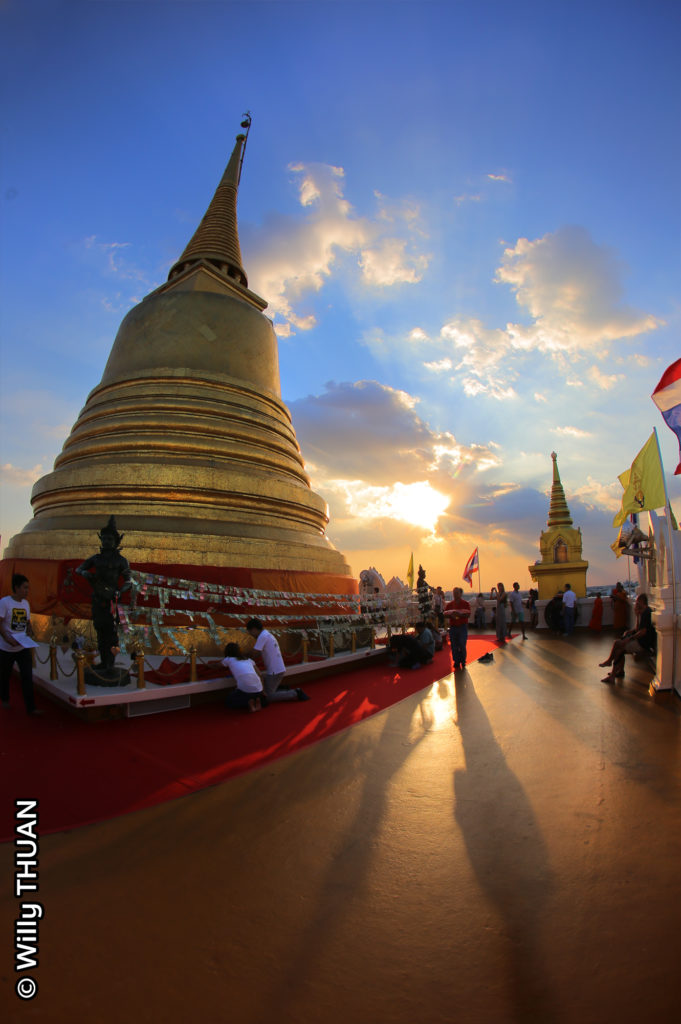 ---
Wat Saket Info
Location: Rattanakosin
Address: 344 Thanon Chakkraphatdi Phong, Ban Bat, Pom Prap Sattru Phai, Bangkok 10100
Open: 8 am – 5 pm
Phone: 065 010 3131
Dress Code: No short skirts or short pants, no sleeveless T-shirts
Price: Free
---
Map of Wat Saket Bangkok