---
What to do in Bangkok Chinatown?
---
Bangkok Chinatown and Yaowarat Road are some of the oldest Chinese communities in Thailand and are always an attraction ranking high on any traveller's list of things to see in Bangkok. And it should! Yaowarat, Sampeng Lane and all the small shopping streets around are buzzing with activity by day and night. It's a gigantic market made of tiny shops packed again each other for almost a kilometre square. It's crowded, very hot, fun and utterly eclectic, selling everything from wholesale fabric to fashion accessories and cooking equipment.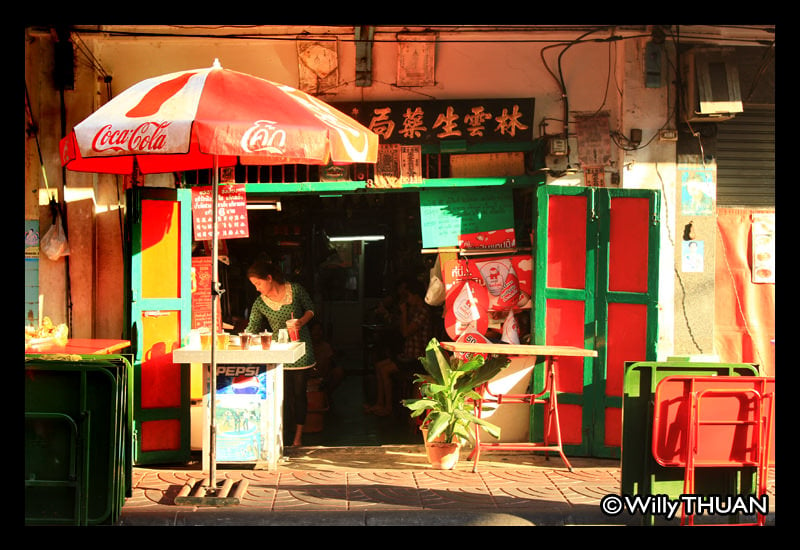 All the sidewalks and intersections of Yaowarat and Charoen Krung Road are cluttered with street foods vendors especially in the evening and obviously predominantly Chinese. You'll find some great noodle soups, crab noodles and fried dishes. As often in street foods, the humble-looking shops are frequently the most popular. Unfortunately, many restaurants in the street also sell swallow nests and shark fins, no need to say that we strongly recommend you to avoid these places. Don't expect to find much Pad Thai here, that's a speciality of Khao San road, not to say a touristy thing.
---
[the_ad id="30528″]
---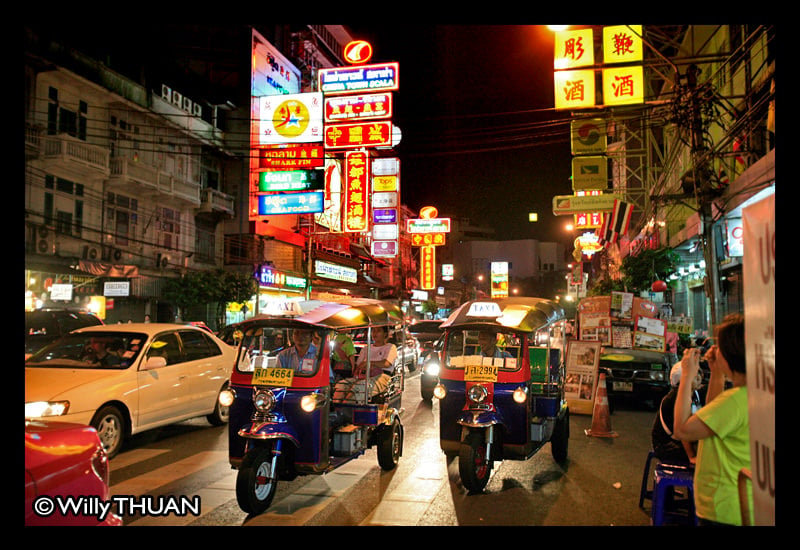 But beyond the obvious, Chinatown abounds with hundred of little treasures for the explorer and photographer, places not on tourist lists, narrow alleys that will take you straight back to Bangkok as it probably was 40 or 50 years ago. On the right-hand side when walking along with traffic, small shops selling dry ingredients for Chinese cooking and medicine are always fun to look at, the majority of the items on display are alien looking.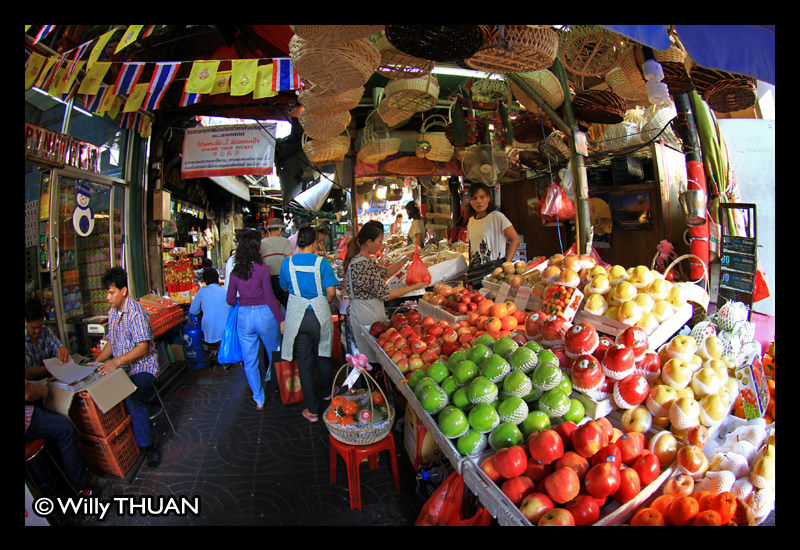 Those lanes are crowded all day and you'll be caught in a permanent ballet of delivering carts and Vespas. Beyond these alleys is one of the oldest fresh markets in town. it's old and messy but has this unique timeless atmosphere of old trade quarters. Don't be shy and explore! People are always friendly and how many times was I offered the food I was looking at.
---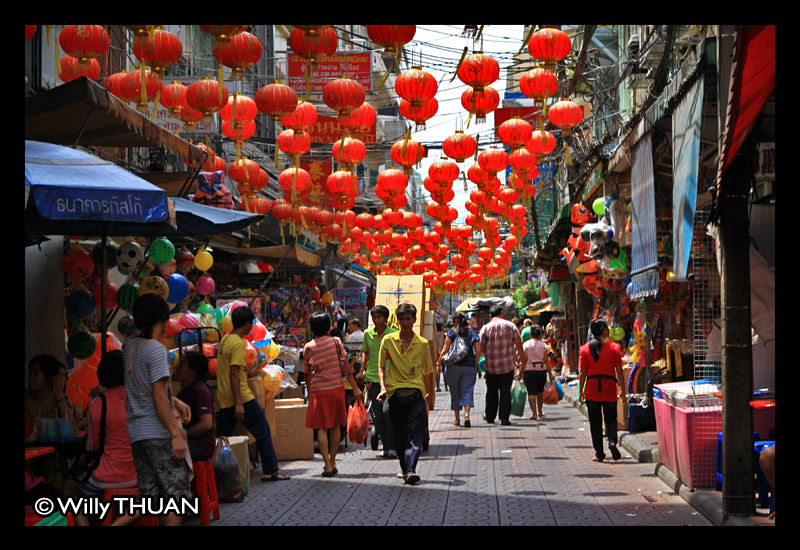 Chinatown has also an enormous concentration of old Vespas used as delivery vehicles. A few are in mint condition but the large majority have been fixed countless times and repainted with more or less care, but ultimately they still faithfully do the job.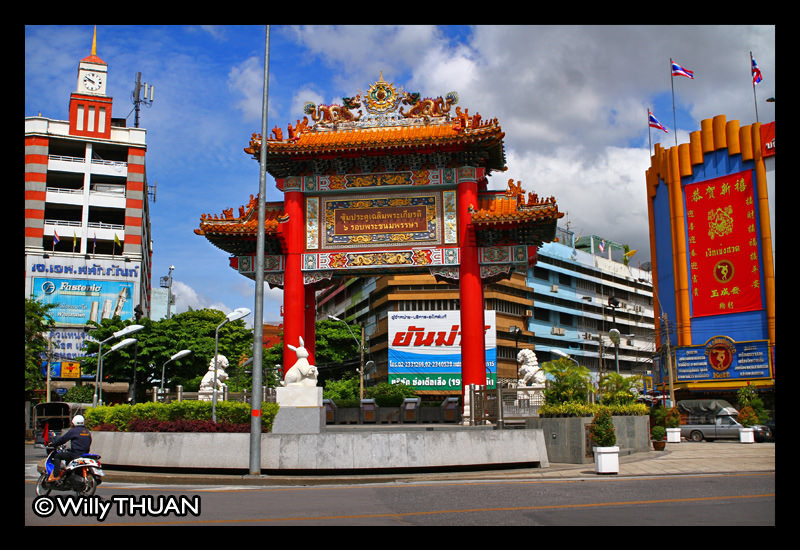 ---
The whole area is peppered with Chinese shrines of various sizes, always interesting to visit, especially Canton Shrine on Charoen Krung Road, or Leng Buai Eia Shrine, possibly one the oldest in Thailand. But don't miss the beautiful Wat Traimit at the beginning of Yaowarat road, just before the symbolic red gate. This beautiful multi-level white and gold Thai temple is sheltering the world's biggest massive gold Buddha image.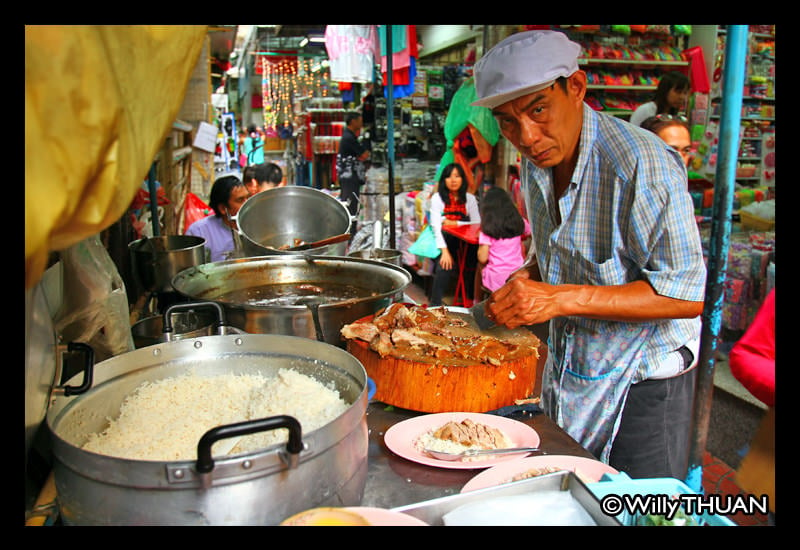 The whole Chinatown is a maze of lanes and old shops and it is easy to get lost, not remembering from which side you came in and ending up at the complete opposite of your destination. If you have an iPhone, maybe you should mark your starting point! Just past Chinatown, you will enter Phahurat, known as Little India and easy to recognize for its large amount of fabric shops. If you like Indian food, don't miss a chance to try some of the small local Indian restaurants, usually cheap and good.
The best way to get to Chinatown is the new MRT (subway)
---
More Photos of Bangkok Chinatown
---
Map of Bangkok Chinatown
---
More reading